10 Healthy (and Delicious) Breakfasts That Boost Your Brain Function
Jump-start your morning with leafy greens, fatty fish, and fresh berries.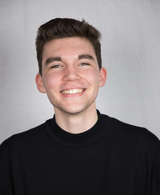 by Jake Smith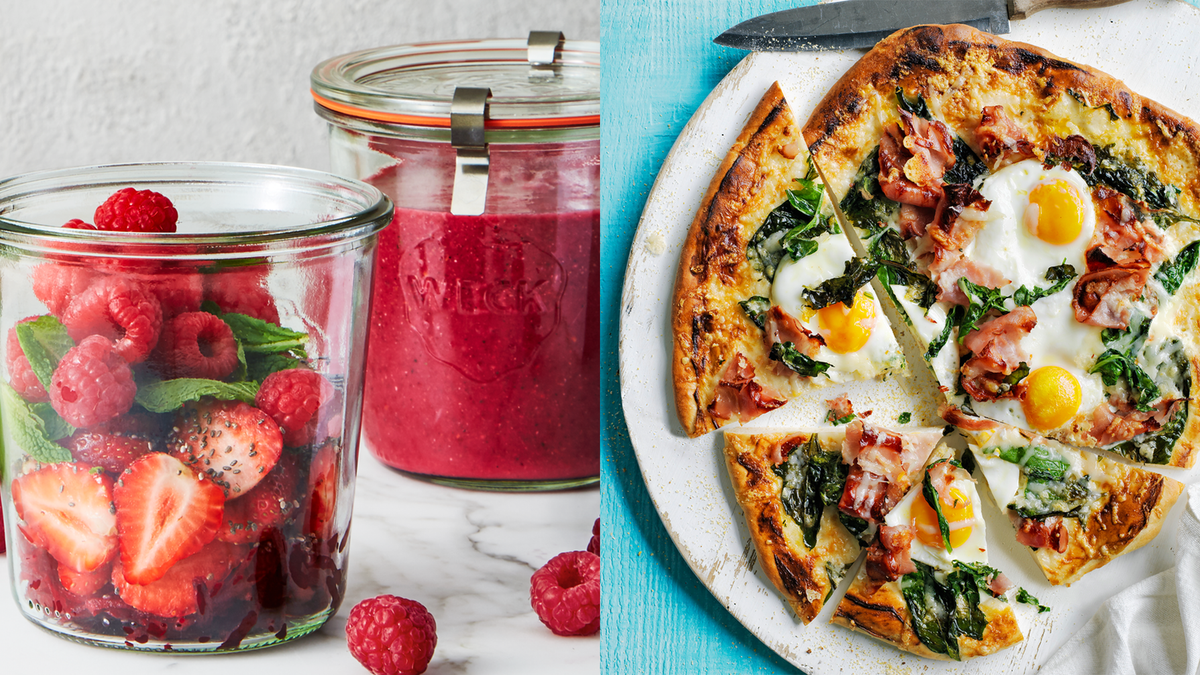 Whether or not you agree that breakfast is the most important meal of the day, you probably know that a healthy morning meal can serve as fuel, making you feel more energetic and sharper.
When it comes to boosting your brain power, your goal should be to get the right amount of calories (or energy), plus a balance of proteins, fats, and carbohydrates, says Danielle Levy-Wolins, R.D., in-house dietitian at the healthy meal-delivery service Thistle. "Taking a look at your breakfast plate, consider making half the plate fruits and veggies, a quarter of the plate protein and a quarter whole grains," she explains. "Healthy fats are more of an addition and can include avocado, olive oil, and any type of nut or seed."
Meanwhile, you should try to cut back on processed foods, added sugar, and simple carbs, which can cause your energy to tank (and your mind to become foggy) before lunch rolls around.
To keep your brain sharp, consider adding these foods to your breakfast plate:

Berries, which contain flavonoids that have been linked to slower rates of cognitive decline.
Fatty fish is especially rich in omega-3 fatty acids, which have long been understood to protect and bolster cognition.
Leafy greens provide brain-boosting nutrients like beta carotene, vitamin K, and folate.
Eggs are a great source of choline, which has been shown to improve brain health throughout life—but only in their yolks.
Nuts provide protein, and walnuts in particular have tons of omega-3s and are associated with healthier brains.
Beyond boosting cognition, these foods provide the calories, protein, and nutrients you need to feel your best throughout the day. One 2015 study even found that "brain foods" such as these can promote mental health, meaning they'll leave you feeling better overall.

According to Levy-Wolins, an ideal brain-boosting breakfast would be a half-cup of oatmeal, a two-egg omelet with veggies, and some berries. The Mediterranean diet is also a good guide to cognition-enhancing breakfasts—tons of its staples, including leafy greens, fish, whole grains, and yogurt, have been linked to slower cognitive decline and better overall health.
Ready for more brain-boosting breakfast ideas? Read on for 10 recipes that will make you (and your taste buds) happy.
1
Salmon Hash with Sunny-Side Up Eggs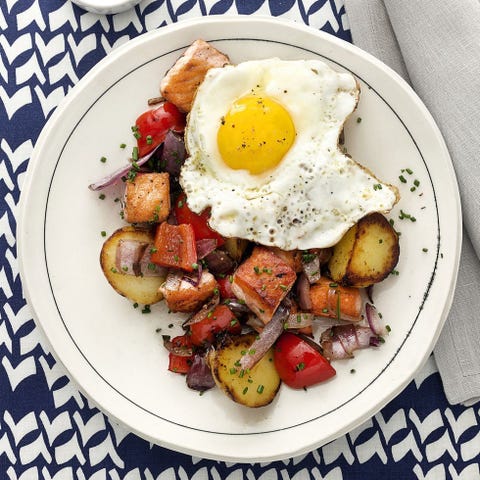 Charles Masters
This savory breakfast contains fatty salmon and a fried egg, both of which have been shown to protect cognitive health. Combined with a hearty serving of veggies, the result is (brain) health food in disguise.
2
Berry, Chia, and Mint Smoothie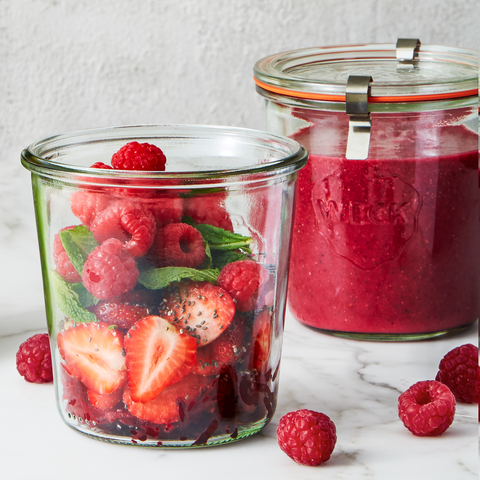 Mike Garten
Need breakfast in a jiffy? Throw some brain-boosting berries, beets, and chia seeds into a blender for a smoothie—you'll have a healthy morning meal ready before your first meeting.
3
Sautéed Dandelion Toast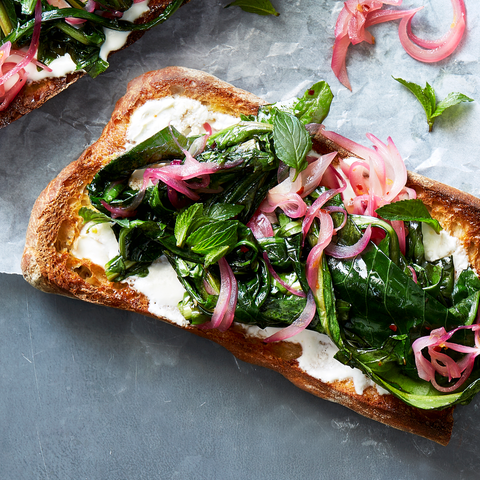 Armando Rafael
If you find it difficult to incorporate greens into your breakfast, try this toast recipe—you'll eat the equivalent of a salad on a slice of satisfying whole-grain bread paired with a creamy yogurt.
Advertisement - Continue Reading Below
4
Apple Oatmeal Muffins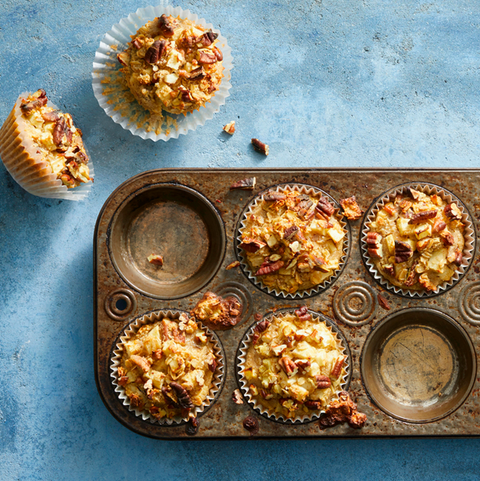 DANIELLE OCCHIOGROSSO Daly
Levy-Wolins approves of the oatmeal in this tasty muffin recipe, which will provide lasting energy and plenty of fiber. For a brain-boosting bonus, swap the pecans with walnuts.
5
Sunny-Side-Up Pizza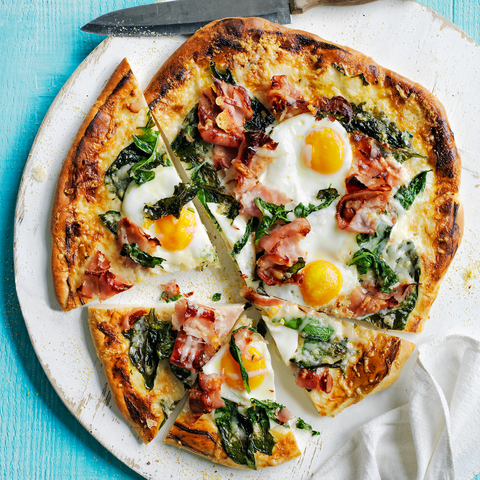 Chris Court
Who says you can't have pizza for breakfast? This 450-calorie recipe has eggs, spinach, ham, and cheese—four ingredients that bolster cognition and belong on your breakfast plate. Family brunch just got way more interesting.
6
Dalgona Matcha Latte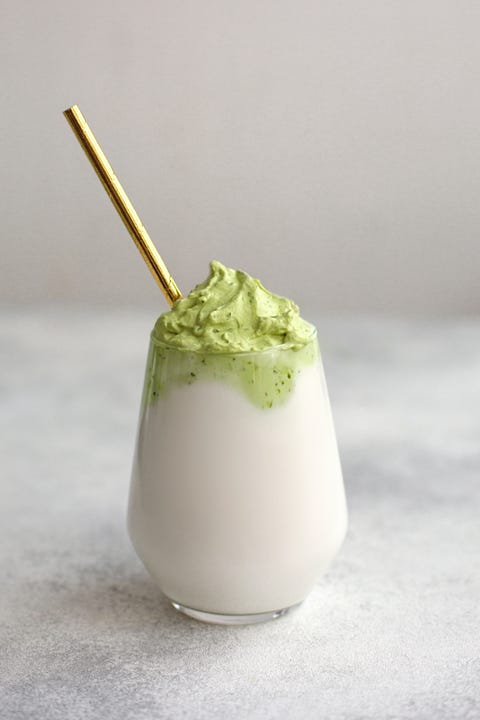 Anastasia Dobrusina
//
Getty Images
Caffeine consumption is associated with higher mental function, per a 2014 study. This latte (which went viral on TikTok last summer) uses antioxidant-rich matcha, a form of green tea that releases caffeine slowly.
Advertisement - Continue Reading Below
7
Blood Orange and Coconut Chia Pudding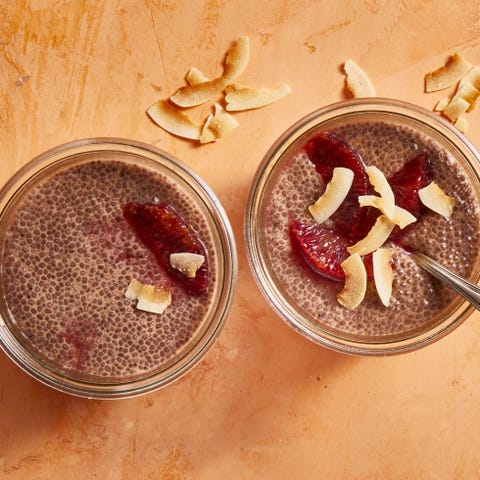 Mike Garten
Chia seeds are rich in omega-3 fatty acids, which means they're ideal for anyone who wants to keep their mind strong. They also happen to make an irresistible base for pudding, especially served with fresh citrus and coconut.
8
Grain Bowl with Sautéed Spinach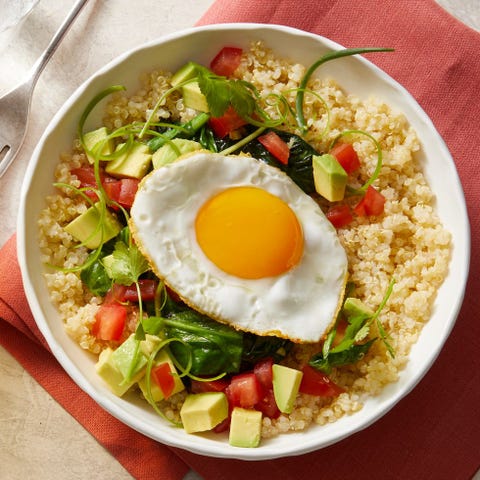 Mike Garten
Don't toss that leftover quinoa from dinner! Instead, repurpose it in this grain bowl, which you can customize with any greens, veggies, fruits, and proteins you have on-hand.
9
Blueberry-and-Mixed Nut Parfait
Mike Garten
Plain yogurt boosts your brain when you top it with nuts and berries. Protein and fiber provide steady energy and better concentration all morning long, while orange zest, cardamom, and flaky sea salt keep your taste buds happy.
Advertisement - Continue Reading Below
10
Scrambled Egg Tacos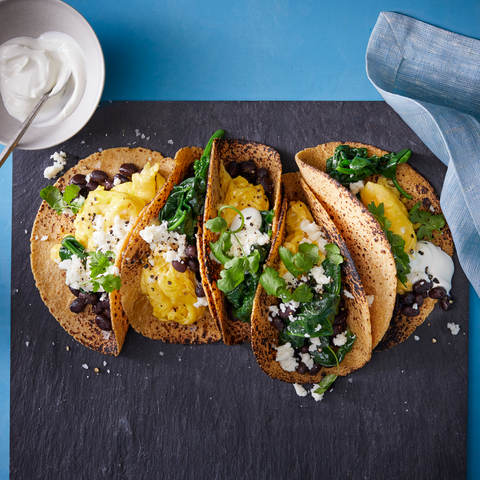 Con Poulos
Few morning foods are as joyous as the breakfast taco—and this recipe, complete with eggs, black beans, spinach, and cilantro, has all the nutrients necessary to fuel your day. Your kids won't even notice they're eating healthy.

Jake Smith, an editorial fellow at Prevention, recently graduated from Syracuse University with a degree in magazine journalism and just started going to the gym. Let's be honest—he's probably scrolling through Twitter right now.